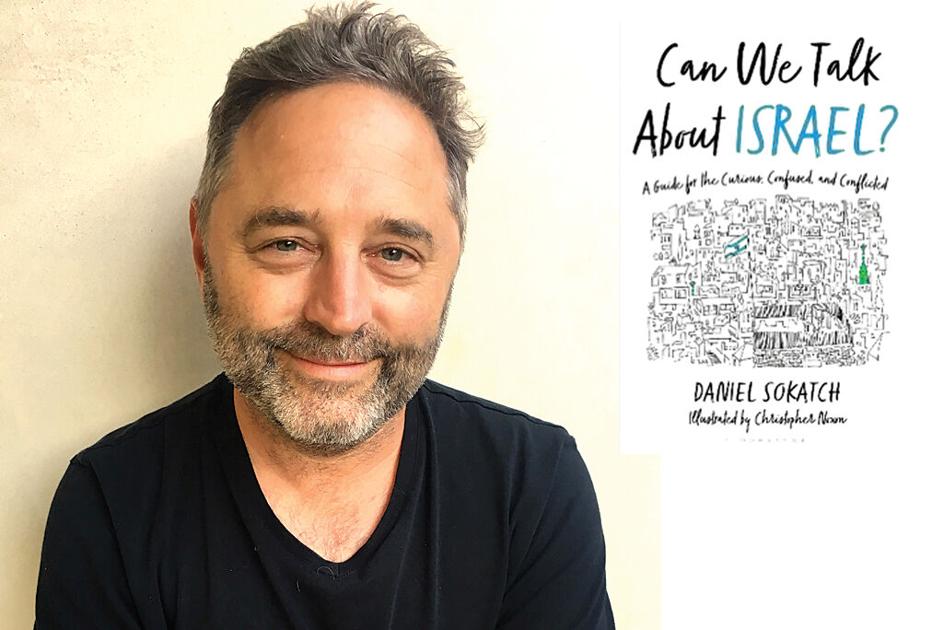 The author talks about the problems, passions around Israel | qboro: Arts, Culture & Living
San Francisco's Daniel Sokatch could certainly have chosen an easier topic for a book than a look at the complexities Israel faces both internally and on the world stage.
"I am a lifelong liberal Zionist who has dedicated my life to improving the country," he told the Chronicle in an interview last week.
Sokatch will talk about his new book "Can We Talk About Israel?" A Guide for the Curious, Confused and Conflicted" in a virtual reading conference hosted by Commonpoint Queens from noon to 1 p.m. on Monday, January 24.
Tickets are $8 for members and $10 for non-members. They can be purchased online at commonpointqueens.org.
"I am a person who has been close to Israel for most of my life, all of my teenage and adult life," said Sokatch, CEO of the New Israel Fund, a nonprofit that supports liberal Israeli civil society.
He said the group works to advance the rights, status of the LGBT community, women, minorities, Arab citizens of Israel, immigrants from Ethiopia and Russia, marginalized groups, human rights. man and environmental organizations.
A student of Middle Eastern history and a civil rights lawyer, he said it was increasingly difficult to discuss Israel both in Israel and in the United States.
"Because it's so emotional for people," he said. "Because people have such strong and deep beliefs about Israel without really knowing much about what they are talking about.
"People feel this because it's tied to issues of religion, ethnicity, survival, justice and international relations," he said. "All of these things make it a volatile mix, a mix that I think more and more people are polarizing around with the 'Israel is right or wrong' crowd and the 'Israel is always wrong' crowd.
"…I hope my book can be a toolkit to help people navigate a complex situation in a way that allows them to feel compassion and respect for all parties to the conflict, who have legitimate claims." He sees no other way out of the Israeli-Palestinian conflict than with the two-state solution.
"It is still the official policy of the United States, Israel and the Palestinian Authority; and the Arab League and the European Union.
He said that, as with Israel and Egypt, Northern Ireland and other modern conflict resolutions, the process is likely to be messy and, at first, flawed – and necessary, with a need to back moderates in the two sides.
"There are a lot of people on both sides who believe this is a zero-sum game, and 'we're going to win, either by crushing you or waiting for you. "I reject this dichotomy.
He also believes that Israel can succeed by sticking to the ideals on which it was founded. He also said there was nothing wrong with criticizing the country for its excesses.
"This is what-aboutism," he said. "It's like saying 'America has problems, but what about China? Don't criticize what's happening here because it's worse elsewhere.
"Do we want to compare Israel to Syria and Iran; Iraq and China? Sokach asked. "Or do you want to compare Israel to the countries Israel likes to be compared to, wants to be compared to, and wants to be part of the community — the West, Canada, the United States, Australia, the European Union. Israel pledged in its founding documents to grant equal rights to all citizens, regardless of their origin. It did not set itself up as a supremacist ethno-national state like Saudi Arabia.
"And in this country, until four or five years ago, criticizing the government was not considered treason," he added. "It was considered patriotism. I think most people reject "America, love it or leave it". Some don't.
He sees hope.
"I hope my book will help people understand what is going on, what happened," he said. "Why, for Jews, is such an essential part of our identity and who we are, and why is it also true for Palestinians. This is the intention of this book.