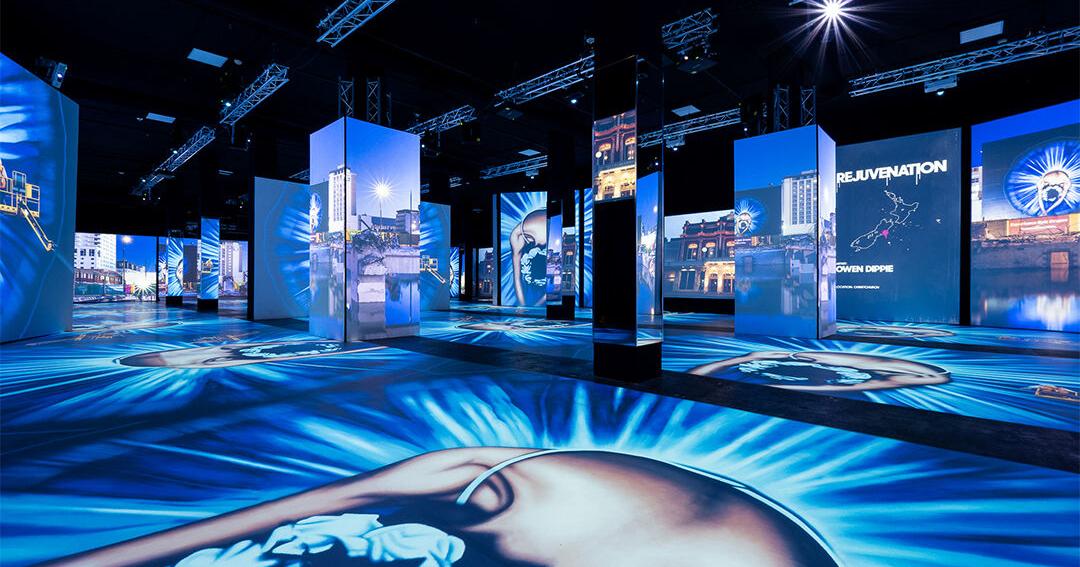 New art exhibit takes viewers on a world tour | arts and culture
Home to a thriving art scene, Los Angeles has long been a hotspot for artists whose works have been exhibited in major museum galleries and covered the city's basement walls.
To help elevate the voice of this city's artistic talent, downtown event center Magic Box LA has partnered with Grande Experiences, a global leader in multi-sensory arts and culture experiences, to launch the world premiere of " Street Art Alive".
With the endorsement and support of over 200 street artists from around the world, Street Art Alive has transformed one of the city's newest digital art galleries, The Lume Los Angeles, into an unforgettable journey through the streets. and alleys of more than 20 emblematic cities. , including New York, London, São Paulo, Melbourne and Berlin.
"When (the founders) saw what was happening in the world and all of this work that was happening on the streets of these different cities, there was a vision to use this incredible art with the same technology that they use with van Gogh's art to create an immersive and multi-sensory experience," said event director Paul Bonet.
The experience includes interactive installations, as well as eight original life-size sections of the Berlin Wall, which artists around the world have used as a canvas for their powerful political statements and social commentary.
Two of the three original sections of the wall, including the columns at the entrance to the exhibit, were painted by Kelly "RISK" Graval, one of the founders of the West Coast Graffiti movement. His work, titled "Anarch to Monarchy", depicts the Buddha and a butterfly as symbols of hope and positivity.
"It's a pretty powerful moment when you stand in front of them," Bonet said. "The division of a community by political powers is tragic. It's scandalous. With things like the war in Ukraine, with things in Myanmar… There is always the wall in Israel and in Palestine. It's kind of symbolizing that and making a statement about it… The Berlin Walls played a pivotal role in portraying outrage and political dissent.
Throughout the exhibition, the Lume LA will invite local street artists to add their voices to the iconic concrete walls.
When visitors enter the space, they are immediately transported back in time to a New York City subway in the 1980s. The exhibit invited local artists to build rooms and paint graffiti-style artwork to emulating the look of one of the defining ages in the history of street art, when New York graffiti artists had begun to capture the imagination of the rest of the world.
"What we're trying to do there is bring you back to that point, so when people visit that space, they get a sense of what it was like and where it all sort of started," said Bonet said. "In this entry, we were trying to give people a bit of history and a real tactile sense of the artwork before they entered the digital gallery. Once they have been there, they then find themselves in this world of projected pieces, some animated.
Street Art Alive has over 25,000 square feet of gallery space and over 65 projectors. From a curated soundtrack featuring music from genre-defining legends of glam rock, post-punk, and hip-hop to a geometric design made of duct tape by artist Darel Carey, the exhibit showcases an array works that transcend borders, generations and media forms.
"It's not so much statement work, but it's art," Bonet explained. "In our exhibition, we highlight the fact that street art is no longer graffiti. The artists who do this work are as valuable as the artists who hang on the Broad. In fact, many of the artists hanging from The Broad were street performers.
Although the exhibition loop lasts 45 minutes, Bonet explained that visitors often find themselves wandering the exhibition for more than two hours. With no set beginning and end to Street Art Alive, visitors can drop in and out at any time as they explore not only the work of local artists, but creators from around the world as well.
"LA is an amazing place for street art," Bonet said. "LA is an art city as far as I'm concerned, and people resonate with that. The Angelinos know him well, they respect and appreciate him. In bringing this exhibit here, we weren't taking street art from LA and bringing it inside. We were bringing the rest of the world here so they could encourage people to do street art, even more so if it's in their own backyard.
In the same way that the Berlin Wall had been used as a canvas for raw expressions of emotion, Street Art Alive is a home for street artists across Los Angeles to imprint their messages, feelings and stories for the world to see. can see them.
"Every child is born an artist," Bonet said. "The most amazing thing is that this art form can really shed light on incredibly important questions. It can bring hope to people, it can bring communities together, and we're really proud to be part of that message.
living street art
WHERE: The Lume Los Angeles, 1933 S. Broadway, Los Angeles
WHEN: Noon to 7:30 p.m. Wednesday to Thursday; noon to 9 p.m. Friday; 10 a.m. to 9 p.m. Saturday and Sunday
COST: Adult: $39 to $49; youth (4-14 years old): $29 to $37; child (3 years and under): free, excluded after 6 p.m. from Friday to Sunday
INFORMATION: thelume.com/losangeles